Central Coast Community Energy Provides Rebates for Ag Customers to Electrify Equipment, Reduce Emissions  
Central Coast Community Energy Provides Rebates for Ag Customers to Electrify Equipment, Reduce Emissions  
Enhanced Benefits for Small Businesses 
December 9, 2022
MONTEREY, Calif., Dec. 9, 2022 – Central Coast Community Energy (CCCE) announced today $2.15 million is available to customers through CCCE's Ag Electrification Program, enabling the local agricultural industry to replace fossil fuel-powered equipment with new, all-electric equipment.
The adoption of sustainable agricultural equipment, such as electric irrigation pumps, tractors, and utility vehicles, is crucial to California's fight against climate change and to meet our state's ambitious greenhouse gas emissions reduction goals. Switching to electric equipment improves air quality and healthier working conditions for farm workers and Central Coast communities.
"Reducing CO2 emissions is what we're after," said Larry Jacobs, Co-founder of organic certified Jacobs Farm del Cabo in Santa Cruz County, which benefited from CCCE Ag Electrification funds by electrifying some of its farm vehicles. "Electric tractors have replaced some of our small diesel ones. They've helped us with cultivating, seeding, and spreading compost. They aren't emitting any fumes and they are a lot quieter."
CCCE has distributed more than $1.22 million in rebates from its past three Ag Electrification programs, which were all fully subscribed. Rebate funding is available on a first come, first-serve basis until funds are depleted.
View rebate amounts below.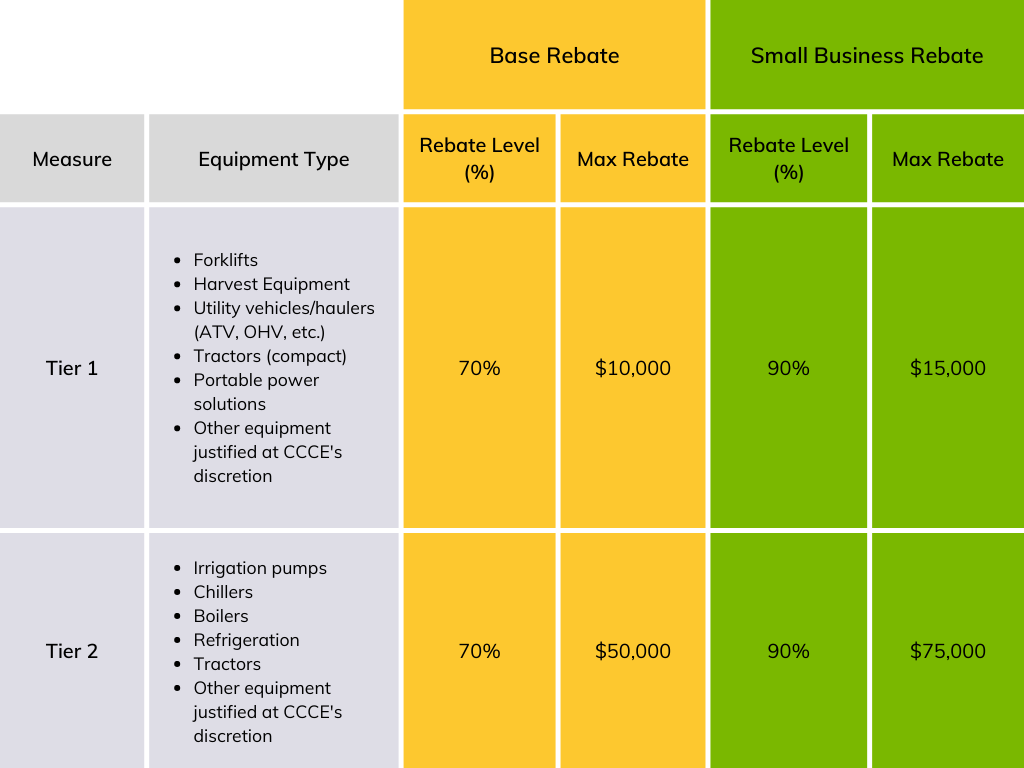 To learn more about the electrification rebates available through CCCE's Ag Electrification Program, visit bit.ly/3iR4s6b.
###
About Central Coast Community Energy
Central Coast Community Energy is a public agency that sources competitively priced electricity from clean and renewable energy resources. CCCE is locally controlled and governed by board members who represent each community served by the agency. Revenue generated by CCCE stays local and helps keep electricity rates affordable for customers, while also funding innovative energy programs designed to lower greenhouse gas emissions and stimulate economic development. CCCE serves 436,000 customers throughout the Central Coast, including residential, commercial, and agricultural customers in communities located within Monterey, San Benito, San Luis Obispo, Santa Barbara, and Santa Cruz counties. Learn more at 3CEnergy.org and on social media, including Facebook, Instagram, and Twitter @3CEnergy.
For more information:
Central Coast Community Energy
Lena Wallace
Communications Specialist
831-641-7206
lwallace@3ce.org
https://cal-cca.org/wp-content/uploads/2018/07/logo.png
0
0
Jackson
https://cal-cca.org/wp-content/uploads/2018/07/logo.png
Jackson
2022-12-09 19:40:13
2023-01-05 19:41:33
Central Coast Community Energy Provides Rebates for Ag Customers to Electrify Equipment, Reduce Emissions